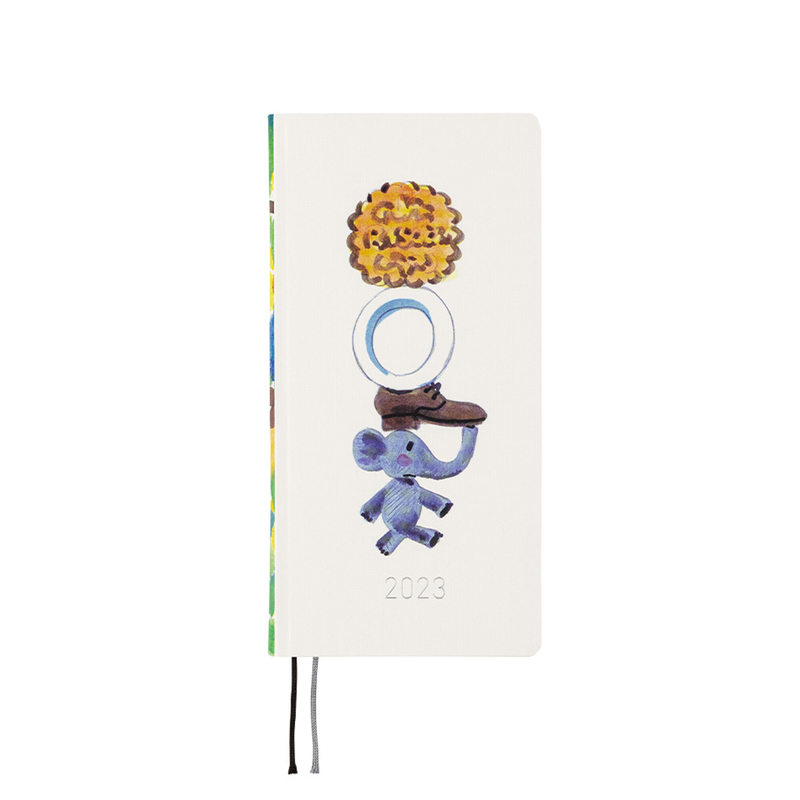 Hobonichi Techo Weeks 2023 Gurunpa's Kindergarten Spring
50% off!   €31,00   €15,50
Add this product to your cart and the price will be automatically updated.
Hobonichi Techo Weeks 2023 Gurunpa's Kindergarten is a weekly diary and features an artwork with the character of the beloved children's book who carries things he has made: a big biscuit, a plate and a shoe. Spring edition (April start).
| | |
| --- | --- |
| Brand | Hobonichi |
| Color | White |
| Edition | Regular |
| Made in | Japan |
| Paper Size | Other |
| Diaries Layout | Weekly |
| Ruling Type | Grid |
| Paper Color | Ivory |
| Paper Weight | 52 gsm |
| Cover Material | Paper |
| Cover Type | Hard |
| Binding | Stitched |
| Height | 188 mm |
| Width | 94 mm |
| Depth | 10 mm |
Gurunpa's Kindergarten is a beloved children's book from over 50 years ago, first released in 1965. The longtime favorite book was written by Minami Nishiuchi and illustrated by Seiichi Horiuchi.
The story stars Gurunpa the large elephant, who works at all kinds of places, including a shoe store, piano factory, automobile factory, and more.
The artwork used on the front cover pictures Gurunpa carrying things he has made: a big biscuit, a plate and a shoe. The cover has been constructed as a light, hardcover book with some give to it so it still bends. The base is off-white, and the book spine is filled with color.
Gurunpa always stands up to a challenge; if he fails, he gets back up again. What a great character to spend the next year with.
Do you want to know more about Hobonichi Weeks Spring?
The weekly edition Hobonichi Techo is a compact book that's easy to carry everywhere. The planner inside consists of a weekly calendar on left page and a graph paper page on right. Spring edition starts on April 2023 and ends in March 2024. 
Although slim, thanks to the exclusive and high-quality Tomoe River paper, every Hobonichi Techo Weeks contains 69 graph paper pages for note-taking at the end of the book.
Starting from this year, you are able to choose your favorite language between Japanese and English. You also find an image to see the differences.