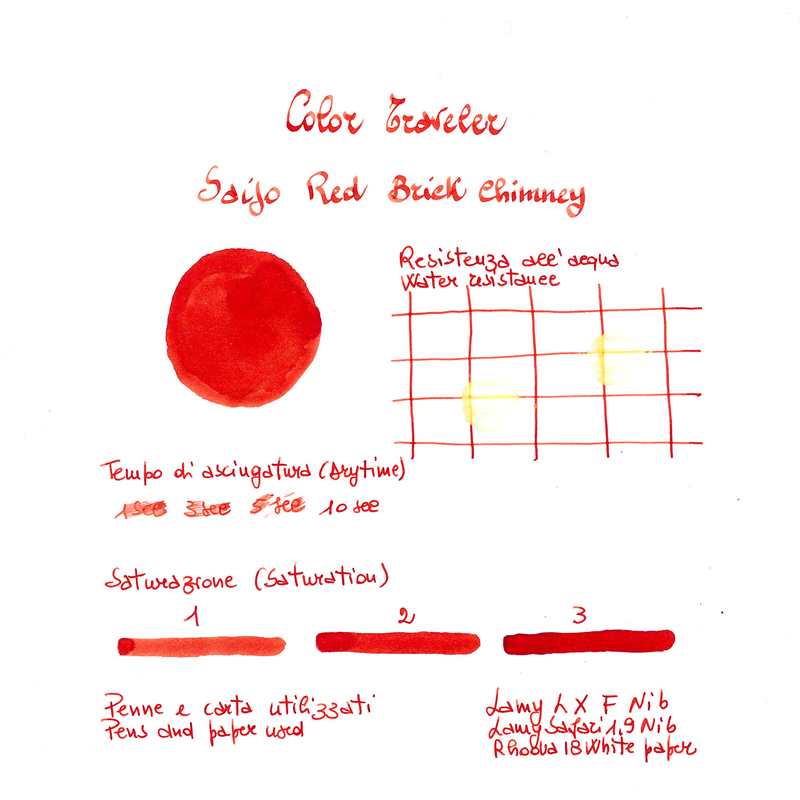 Color Traveler Saijo Red Brick Chimney Ink Bottle 30 ml
Color Traveler Saijo Red Brick Chimney is inspired by the red brick chimneys of buildings in Saijo, the home of Ginjo sake.
| | |
| --- | --- |
| Brand | Color Traveler |
| Color | Red |
| Edition | Regular |
| Volume | 30 ml |
| Ink Composition | Dye-Based |
| Water Resistant | No |
| Shimmering | No |
| Fast Drying | No |
| Scented | No |
| Lubricating | No |
Color Traveler is a company located in Hiroshima, Japan with a long-time experience in the fountain pen market. Their fountain pen inks will take you on journey introducing Japanese town, history and special products.
Saijo in Higashihiroshima is one of Japan's foremost places for sake. The foundations of brewing Ginjo sake were established there and today Saijo is called "The Home of Ginjo". Almost 20.000 people visit their annual sake festival in October. Buildings featuring old fashioned red brick chimneys and traditional black "namako" walls line Saijo's Sakagura Street creating its unique townscape. This color is inspired by the red brick chimneys of these buildings.
The packaging features the design of an old travel luggage and contains a bottle of ink of 30 ml, a pipette, an empty glass bottle of 5 ml and some stickers. You will be able to use the small glass bottle for bringing the ink with you or gifting it to a friend.